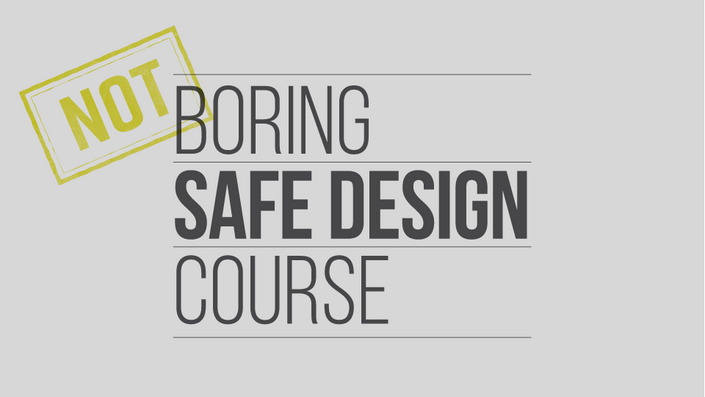 *The Not Boring Safe Design Course*
Time to get excited about Safe Design!
Safety in Design Online Short Course

Who is this course suitable for?
The Safe Design Online Short Course is suitable for all professionals involved in the design, development and construction of structures:
Designers
Architects
Engineers
Property Developers
Design and Construction companies
Principal Contractors and Project Managers
About the Course
The Course is a self-paced program (approx. 3 hrs in total) consisting of great videos, presentations, and documentation, covering all aspects of Safe Design.
The program consist of 7 Modules with sub-sections ranging in length from 2-minute videos to 20 minutes of content presentations. To lock in the learning we have a short self-assessment quiz to re-cap what was covered and ensure you've understood the learning concepts.
Module 1: What is Safe Design?
Module 2: Principles of Safety in Design
Module 3: Safety in Design starts with you
Module 4: Risk Management
Module 5: Safety in Design in Action
Module 6: Legal Aspects of Safety in Design
Module 7: Safe Design Course Summary & Resources
Learning Objectives
At the end of the self-paced program you'll be a LEGEND of SAFE DESIGN. This includes being able to:
Identify key Safe Design principles and benefits
Discuss Safety in Design Risk Management Processes and systematic assessment
Describe lifecycle design considerations
Discuss the need for transfer and storage of information - records and reporting
Identify good practice in Safety in Design
Explain WHS legislation - Safe Design duties and obligations
Continuing Professional Development
On successful completion of the Safe Design Online Short Course you'll receive a Certificate of Completion stating the number of CPD* hours of training and serves as documentary proof of undertaking the program. This online course is the equivalent of 3 CPD Points. Speak with your professional association to find out more about CPD eligibility.
Course Fee just $249!
The Course is available for $249 (ex GST) and gives you the information, tools and resources you need to help you meet your obligations as a building designer under WHS legislation. Plus, you'll also gain access to a range of free resources that you can download for your every day use.
So sign up today!
Your Instructor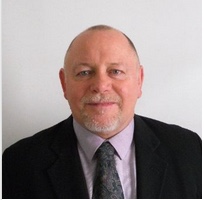 John Daly is the Director of Safe Design Australia (SDA) with extensive Australian and international design safety experience and expertise. John and the team from SDA have designed this online Safety in Design course to assist you in understanding and meeting your design safety obligations whilst ensuring you benefit from the latest resources and design safety best practice knowledge.
SDA are specialist safe design consultants with a team of work health and safety consultants and risk managers operating throughout Australia and New Zealand. Clients include architects, building designers, developers, design and construct companies, principal contractors, engineers, and local government. SDA understand that good design is important, and believe that safe design can be achieved without compromising design intent.

Frequently Asked Questions
When does the course start and finish?
It starts and ends whenever you want. You can take it completely at your own pace. The course is approximately 3 hours in total, and you can choose to complete it all at once, or log in and out and complete a module at a time. Obviously we suggest that you complete it as soon as possible to ensure you absorb the content thoroughly and start applying the resources to your every day role.
How long do I have access to the course?
As long as the internet exists, so will this course. And after enrolling, you have unlimited access to it for as long as you like, on any devices you own. We do suggest that you get cracking on completing the course as soon as possible so you can absorb all of the concepts and start applying it to your work in the real world. Plus, once you complete the course, we'll issue a Certificate of Completion.
What if I'm displeased with the course?
'Displeased' is a word we'd never want to hear anyone use to describe this course. We think you'll quite enjoy it, but if for any reason you find yourself regretting enrolling, just get in touch within 30 days and we'll give you a full refund. We appreciate any feedback that you may have.
Will the course actually be 'not boring'?
Yes. Probably. We've designed the course to present concepts in an engaging way through videos, presentations and documentation. Plus there's some great resources for you to use in your every day job.
I'm practising outside of Australia, is this course still relevant?
It certainly is. The Safe Design principles are relevant regardless of the country. There's a section on legal aspects that align with Australian-specific legislation, but Australia's best practice is of a higher standard than the corresponding laws in most countries. Plus, John, who designed the program, has experience working with building designers and major design and construction organisations from all over the world.
Is it true this course will improve my Safe Design skills by 99%?
Definitely. Although that percentage is based purely on our gut feeling. More of a vibe, really. What we do know is that you'll be presented with relevant concepts and useful tools and resources that you can use in your every day job. Plus, we have some great project examples that can be applied to a range of design projects and sizes.